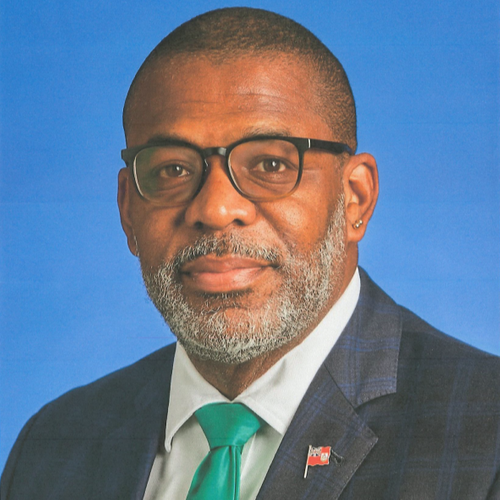 Walter Roban, JP, MP
Deputy Premier and Minister of Home Affairs
,
Bermuda
Walter H Roban JP MP is the Deputy Premier of Bermuda and the Minister of Home Affairs. He is part of a leadership team that successfully returned the Progressive Labour Party (PLP) to Government for the fourth time on Tuesday 18 July 2017. The achievement follows a career in politics spanning nearly 30 years. A man with a passion for politics and the community, he joined the Bermuda Progressive Labour Party Youth Wing, "Progressive Youth", in the late 1980's. He served as its Chairman and representative to the party's Central Committee from 1991 to 1993. In 1995 he was elected to the position of Secretary General of the PLP, which he held until August 1999.
As a member he worked on a variety of internal projects shaping the party and its policies. In 1995, Mr. Roban worked on the team that revised the PLP Independence Policy. He served as aide to former Opposition Leader L. Frederick Wade doing research projects and writing in different areas of policy to assist the party to be effective in Opposition. In 1996 at the request of the then Opposition Leader and Party Leader Jennifer Smith, Mr. Roban served as Deputy Chairman of the PLP Campaign Committee for November 1998 election, playing a key role in all aspects of the historic national election campaign. In 2002 Roban worked with the Party committee responsible with implementing key reforms required to restructure the party branch system. In 2003, he was appointed to the PLP's Executive where he held the positions of Acting Secretary General Membership and Acting Public Relations Officer. In addition, he was spokesman for the election campaign as well as a Campaign Committee member with responsibility for major aspects of the campaign. Mr. Roban is a former government Senator and held the Junior Ministerial portfolios of Health & Family Services, Tourism & Transport and Education and Development, serving in the Senate from 2003 to 2006.
He was first elected to office on December 18, 2007 and served as Junior Minister of Labour, Home Affairs and Housing from February 2008. Roban was first appointed to Cabinet June 23, 2009 as Minister Without Portfolio with responsibility for Municipal Reform. He also held the portfolios of the Minister of Health, Minister of the Environment Planning and Infrastructure Strategy from August 2009 until October 2011. Roban later served as Minister of Transport from June 2012 to December 2012. Roban successfully retained his seat in the December 17, 2012 General Election. He held the Shadow Minister positions of Public Safety, Home Affairs and Shadow Minister of National Security from 2012 to 2017.
Mr. Roban is a graduate of Morehouse College in Atlanta, Georgia, where he received a Bachelors Degree in Business and International Studies. He then furthered his studies at the University of Birmingham in England where he received a Masters of Arts Degree in International Studies, specialising in international politics, political risk and foreign policy analysis. He has worked in the legal profession and also in the banking industry, most recently as an Assistant Vice President in the Private Banking Division of HSBC Bank in Bermuda.
His spare time activities include cooking, reading, studying current affairs, studying African, Caribbean and Bermudian culture and travelling. Roban is blessed with a wonderful family which includes his life partner Nadine Francis and daughter Zara.