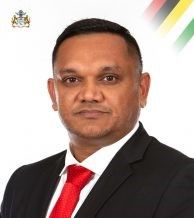 Vickram Bharrat
Minister of Natural Resources
,
Co-operative Republic of Guyana
Mr. Vickram Bharrat was born in Berbice, Region 6 and attended the New Amsterdam Multilateral Secondary School. His academic achievement includes a Bachelor's Degree in Computer Science from the University of Guyana and is qualified in the area of Public Management with a wealth of experience in governance and managerial competencies.
Most noteworthy, Minster Bharrat has been an educator, mentor and entrepreneur for over fifteen years as the owner of Xenon Academy (Primary and Secondary) located at Grove, East Bank Demerara. His acquired skills of patience and listening to youths will be transferred to his new responsibilities as Minister of Natural Resources to engage stakeholders.
Minister Bharrat's professional life commenced with him serving in the capacity of Technical Officer at the Ministry of Local Government and the Ministry of Health. He also held the post of Project Manager with the United Nations Development Programme. Additionally, at the local level, Bharrat also provided sterling service as the Chairman of the Grove/Diamond Neighbourhood Democratic Council to improve services and enhance the aesthetics of local communities.
Following his appointment as the Minister of Natural Resources and a Member of Guyana's Twelfth Parliament on August 06, 2020 and September 01, 2020 respectively, he has been assigned oversight of the Guyana Geology and Mines Commission, Guyana Forestry Commission, Guyana Gold Board and the Department of Energy. Further, he previously served in the Eleventh Parliament as a Parliamentarian for the period 2016-2019.
Minister Bharrat has been with the People's Progressive Party since he was a teenager, having joined the Progressive Youth Organisation at the age of 14, resulting in his unwavering commitment and service to Guyana. He is also a Member to the Central and Executive Committee of the People's Progressive Party.
He is married with two children, both teenagers.