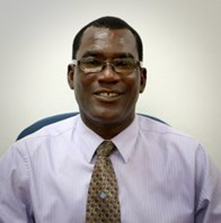 Leo Brewster
Director
,
Coastal Zone Management Unit, Barbados
Dr. Brewster is the Director of the Coastal Zone Management Unit (CZMU), Blue Economy Division, Ministry Environment and National Beautification. He possesses a Ph.D. in Integrated Coastal Zone Management from Cardiff University, Wales, U.K. With over 34 years of experience he is very familiar with the development of management strategies and strategic planning for small Island Integrated Coastal Zone Management as well as rapid assessment techniques for coastal impacts . He was recently a Vice Chair of the IOC - UNESCO Intergovernmental Oceanographic Commission - Sub-Commission for the Caribbean and Adjacent Regions (IOC-IOCARIBE) - 2021 - 23.
He has a strong interest in projects related to climate change, sustainable environmental management, impacts on the ocean, ocean science, coastal resilience, coastal adaptation designs and new investment projects of interest to Barbados with a blue economy approach and defined focus. He is currently the Barbados Lead representative on several of the Commonwealth Secretariat Blue Charter Action Groups.