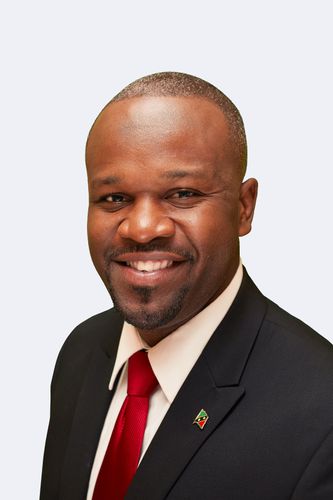 Konris Maynard
Minister of Public Infrastructure, Energy and Utilities, Domestic Transport, Information, Communication and Technology and Posts
,
Saint Kitts and Nevis
The Honourable Konris Maynard is an elected member of parliament and the Minister of Public Infrastructure, Energy and Utilities, Domestic Transport, ICT and Posts in the Federation of St. Kitts and Nevis.
Minister Maynard, is a dynamic, innovative, and dedicated leader who became one the youngest parliamentarians ever elected at the age of thirty-one, a reflection of his tenacity and dedication to serving the people of the Federation.
With a background in Electrical and Computer Engineering, having a BSc from University of the West Indies and a Masters of Engineering from the University of Waterloo, added to his professional experience of project management and operations management, Maynard is uniquely positioned to combine his passion for community service and his expertise to bring about meaningful structural and technological improvement to his Federation.
Beyond his political responsibilities, Minister Maynard is actively involved in community development, with a special focus on supporting children, the elderly, and sports initiatives. As a devoted husband and father of two, his dedication to children is evident through his constant engagement in school activities and generous contributions to fields of education and sports.
As a 6-time undefeated National Calypso Monarch, 3-time Soca Monarch, 3-time Regional Calypso Monarch, 2-time Junior Calypso Monarch and former Road March winner, Minister Maynard is a multifaceted leader who has also reached the top heights of musical entertainment, receiving the Federation's Medal of Honour in the field of Music.
Honourable Konris Maynard is a true servant of the people and is determined to use his God given talents to advance the cause of St. Kitts & Nevis.